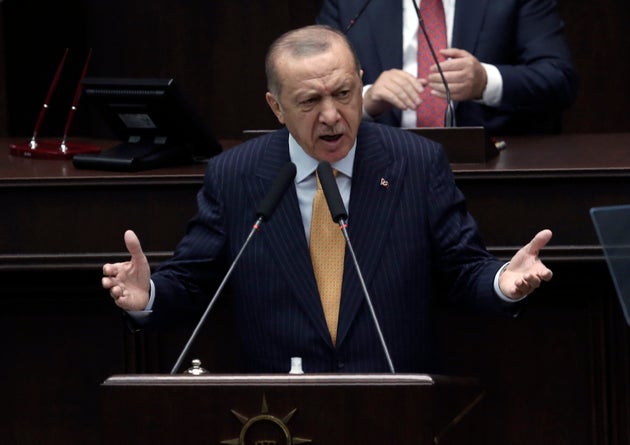 Turkey's President Recep Tayyip Erdogan addresses his ruling party lawmakers at the parliament, in Ankara, Turkey, Wednesday, Oct. 28, 2020. (Associated Press)
While most are busy watching the US election, let's remember the other serious issue confronting the world at this time. President Erdogan of Turkey used the word "crusade" last week, referring to growing conflict between France and the Muslim world, precursor to the coming clash of civilizations talked about by Samuel Huntington and predicted in the scriptures (Daniel 11:40-44). It should be remembered that the first Crusade was launched in France in 1095. There is also a long-term problem developing. Germany is calling for a different alliance with America, a development that will ultimately lead to a Europe dominated by the Beast power. (Revelation 17:12-14)
A Turkish point of view
After all these years they want to relaunch a crusade against Islam, President Recep Tayyip Erdoğan said Wednesday regarding the latest Islamophobic moves in European countries, particularly France.
"I don't even need to say anything about these 'dishonorable' people who dare to mock our prophet through so-called caricatures," the president said during the ruling Justice and Development Party's (AK Party) parliamentary group meeting in Ankara.
"We are a nation that respects not only our own religion but also the values of other religions as well. It is our values that are being targeted," he added.
Erdoğan highlighted that freedom of speech has nothing to do with insulting the Prophet Muhammad. "No matter what they do, we will not give up on defending the rightful cause," he continued.
The president emphasized that Europe's latest moves go against the values they claim to purport. "European countries do not even feel the need to cover up their hatred toward Islam anymore," he added. "France and Europe, in general, do not deserve the vicious, provocative, hateful policies of (French President Emmanuel) Macron and those who follow the same mentality," Erdoğan continued.
Macron last week said he won't prevent the publication of cartoons insulting the Prophet Muhammad under the pretext of freedom of expression, a statement that sparked outrage in the Arab and Muslim world.
Macron this month also described Islam as a religion "in crisis" worldwide and said the government would present a bill in December to strengthen a 1905 law that officially separated church and state in France.
He announced stricter oversight on schooling and better control over foreign funding of mosques. But the debate over the role of Islam in France reached new intensity after the beheading of teacher Samuel Paty, which prosecutors say was carried out by an 18-year-old Chechen who had contact with a terrorist in Syria. (Daily Sabah, Istanbul, 11/3/2020)
France has a long and less than harmonious history with Islam – as well as a president who doesn't mind picking fights. His latest began with a call for French Muslims to cast off foreign influence and build an "Islam of light" – which provoked a furious diplomatic response in Turkey and Iran, as well as street protests in the Middle East and Bangladesh. (The Week, 10/28/2020)
Three weeks ago, Emmanuel Macron was coming under fire from French conservatives after suggesting that teaching Arabic in schools could help combat radical Islam. Less than a month later, the French president is embroiled in a diplomatic stand-off with Muslim countries angry about a crackdown on Islam in his avowedly secular republic.
Macron's about-turn follows the beheading of teacher Samuel Paty, who was murdered after presenting cartoons of the Prophet Muhammad to pupils during a class about freedom of speech.
But the dispute runs deeper than the killing, laying bare France's complex relationship with Islam and triggering calls for a boycott of French products in a string of Muslim-majority countries. (The Week, 10/28/2020)
Turkish President Erdogan: Macron Needs Mental Treatment; Jordanian Islamic Scholar: Macron Has Declared War On Islam; France-Based Int'l Law Expert: Macron Insists On Offending Islam, Muhammad Because He Was Brought To Power By The Rothschilds (MEMRI 10/29/2020)
Canadian Imam Younus Kathrada: Samuel Paty was a Cursed, Evil-Spirited, Filthy Excuse for a Human-Being. (MEMRI 10/30/2020)
Al-Qaeda says killing anyone who insults Prophet Mohammed 'is the right of every Muslim' and threatens President Macron over his vow to defend freedom of speech (Daily Mail 11/2/2020)
Al-Qaeda has announced that killing anyone who insults Prophet Mohammed 'is the right of every Muslim' before threatening French President Emmanuel Macron over his vow to defend freedom of speech. Last month Macron defended the publication of cartoons depicting the Prophet Mohammed on the grounds of freedom of speech, launching a campaign against Islamic radicalism and sparking fury across the Muslim world.
'Killing anyone who insults the prophet is the right of each and every Muslim,' the jihadist group, known by its French acronym AQMI, said in a statement. (Daily Mail, 11/2/2020)
——————————————————————-
GERMANY
Germany wants 'new deal' after U.S. Election
Berlin will seek a diplomatic "new deal" with Washington after the US elections, said German Foreign Minister Heiko Maas. Multilateralism, not nationalism, is needed when it comes to trans-Atlantic relations. "We had to listen to Trump describing China, Russia and the EU in one breath as the USA's greatest enemies. This has to come to an end."
As US presidential campaigning neared its close, Trump claimed Saturday that various nations, including Germany, hoped he would lose Tuesday's election. "China wants me out. Iran wants me out. Germany wants me out," Trump told his supporters. (Deutsche Welle, 1 Nov 2020, https://www.dw.com/en/us-election-germany-wants-new-deal-after-vote/a-55463459)
Germany's Difficult Ally – the USA
German-Foreign-Policy newsletter: 28 Oct 2020
For the aftermath of the US presidential elections, German Foreign Minister Heiko Maas is calling for a "new beginning in the transatlantic partnership." However, "partnership" should not equate "blind allegiance," Maas declared. "Distinct perspectives" of "Europe" and the USA should be recognized and foreign policy "closer coordinated." For months, several influential foreign policy think tanks on both sides of the Atlantic have been exploring options for coordinating transatlantic interests, with the aim of overcoming the fierce controversies of the past four years and to "move closer together," in view of the escalating crises and conflicts, as former Foreign Minister and current Chairman of the Atlantik-Brücke, Sigmar Gabriel, explained.
According to the German Institute for International and Security Affairs (SWP), one of the reasons why the United States would remain "a difficult ally" – even with a possible President Joe Biden – is the growing inequality and massive polarization within the United States.
(German Foreign Policy, 10/27/2020)
Berlin is calling on the incoming administration in Washington to take carefully concerted action against Beijing by taking Germany's particular interests into account. "Americans and Europeans" have many common demands on the People's Republic of China, particularly those concerning trade and investments in China, German Foreign Minister Heiko Maas declared, and side by side, they must raise them now. A "Transatlantic Working Group" could coordinate a transatlantic policy toward China, which should, for example, include the US vice president, relevant EU representatives and foreign, defense and other ministers of EU member states, according to a proposal drawn up under the co-authorship of German diplomat Wolfgang Ischinger. High significance is attached to the competition for global technological leadership. At the same time, Berlin is rejecting some of the US aggressions, including the plans to decouple China from the West: "We do not support every stance and every advance by the government in Washington," the German Defense Minister declared. (German Foreign Policy, 11/2/2020)
Lithium and the Putsch German-Foreign-Policy newsletter, 28 Oct 2020
Following the presidential elections in Bolivia, the German government and business circles hope to have direct access to what are presumably the world's largest lithium reserves. Already at the end of 2018, the German company, ACI Systems had concluded a joint venture with the state-owned Bolivian YLB to extract lithium in the Salar de Uyuni, the world's largest salt lake, situated in Bolivia's highlands. Lithium is indispensable for the production of batteries, such as those used in electric cars and is of particular importance for Germany's automotive industry. However, during the major upheavals, in early November of last year, the German-Bolivian joint venture was put on ice. It has not been revived since the November 10, 2019 putsch in La Paz, despite the German government's support for the putschist regime. Following the putschists' unambiguous electoral defeat, Berlin is hoping to obtain concessions from Luis Arce, the winner of the elections – even though the German government had approved of the violent overthrow of his fellow party member Evo Morales in 2019.
—————————————————————————-
MIDEAST PEACE
PA official names five countries set to establish ties with Israel (https://worldisraelnews.com/pa-official-names-five-countries-set-to-establish-ties-with-israel/)
Following the success of Abraham Accords, talks are apparently underway with Oman, Sudan, the Comoros, Djibouti and Mauritania.
Prime Minister Benjamin Netanyahu said the accords signal the end of the Arab-Israeli conflict in the Middle East. "This is a turning point in history in that the Palestinian veto has been broken that for a quarter of a century prevented us from achieving peace. Now the dam has been broken," Netanyahu said in a Channel 20 interview. (10/28/2020)
—————————————————————
US ELECTION
In 2016, with Trump loudly vowing to make Mexico pay for a border wall, it was almost inconceivable that anyone in Mexico would back his presidential bid. But in 2020, he is unusually popular among supporters of the country's leftist president, Andrés Manuel López Obrador, who is commonly referred to by his initials.
In fact, the two populist leaders have forged a surprisingly close relationship. "We want President Trump to stay in office. Why? Because there's good communication between him and President López Obrador," one Amlo supporter in Mexico City tells David Agren. "They understand each other perfectly because they're nationalists. They're nationalist presidents." (The Guardian, 10/30/2020)
"Given the cards he has been dealt in 2020, and the hatred of the media he daily confronts, it is astonishing that Trump retains his energy and enthusiasm for the battle. Most presidents would have long ago been broken . . . Should Joe Biden win, he would be, on Jan. 20, 2021, the oldest and most visibly enfeebled leader to win the presidency in the history of the republic . . . " (Pat Buchanan, 10/30/2020)
The result of the US election might not be known until nine days after the polls shut after the Supreme Court ruled in favor of allowing counting to continue after election day.
Despite attempts by Republicans to block late postal ballots, Democrats won the right for delayed postal votes to be counted for nine days after the polls close in the marginal state of North Carolina, and for three days in Pennsylvania, a state seen by both sides as pivotal to victory.
Only three of the six key swing states that will most likely determine the election – Florida, North Carolina, and Arizona – are "in a good place to count most of their votes on election night or soon afterward," Vox reports. (The Week, 10/30/2020)
On Telegram, Neo-Nazis Celebrate Second Anniversary Of Pittsburgh Synagogue Attack, Call It 'Saint Bowers Day' In Honor Of Attacker Robert Bowers (MEMRI 10/27/2020)
——————————————————
AFRICA
ZAMBIA ON THE PATH TO ZIMBABWE-LIKE RUIN
Despite the example of neighbouring Zimbabwe's economic collapse over the last 25 years, Zambian President Edgar Lungu is apparently intent on his country relearning this maths lesson. And it will inevitably do so, at great economic and social cost, the responsibility for which Lungu's government will habitually try to wriggle out of. Lungu needs a central bank governor who will not hesitate to print money. SoThe diplomatic brouhaha over SA Finance Minister's Tito Mboweni's comments about Zambian President Edgar Chagwa Lungu's firing of Reserve Bank Governor Denny Kalyalya obscures a bigger issue.

For the record, Mboweni took to Twitter to say: "Presidents in Africa must stop this nonsense of waking up in the morning and fire a Central Bank Governor! You cannot do that. This is not some fiefdom of yours! Your personal property?! No!" He has since been reprimanded for going too far by South Africa's President Cyril Ramaphosa. The bigger issue is that you can't change the rules of arithmetic. (Greg Mills, Daily Maverick (SA), 8/27/2020).
—————————————————————
Roman Catholic Church
Italian archbishop Pizzaballa appointed new Latin patriarch of Jerusalem This office has been vacant since resignation of Fouad Twal in 2016. Times of Israel, 25 Oct 2020
Archbishop Pierbattista Pizzaballa, the most senior Roman Catholic official in the Middle East, has been appointed by Pope Francis as the new Latin patriarch of Jerusalem. The office had remained vacant since 2016, with Pizzaballa holding the position of the apostolic administrator of the Latin Patriarchate of Jerusalem since then. The Italian Pizzaballa, 55, formerly a Franciscan friar, was a pastor for Hebrew-speaking Catholics in Israel and a member of a commission for relations with Judaism. He speaks fluent Hebrew and has lived in Israel since 1990. The last two Latin patriarchs of Jerusalem, Fouad Twal and Palestinian Michel Sabbah – like the vast majority of local Catholics – were native Arabic speakers.
Other new cardinals include an Italian who is the long-time papal preacher at the Vatican, the Rev. Raniero Cantalamessa, a Franciscan friar; the Kigali, Rwanda, Archbishop Antoine Kambanda; the Capiz, Philippines, Archbishop Jose Feurte Advincula, and the Santiago, Chile, Archbishop Celestino Aos Braco.
(Times of Israel, 10/25/2020)
——————————————————
AUSTRALIA
Australia's domestic spy agency has foiled a plot by foreign intelligence operatives to recruit senior Australian government staffers to provide them classified information about Australia's counterespionage activities.
A foreign national based in Australia was working with a team of spies overseas to penetrate senior levels of the Australian government. The primary goal was to covertly acquire classified information about Australian intelligence agencies' operations and capabilities – especially those directed at their country.
The concerning plot is revealed in the annual report of the Australian Security and Intelligence Organisation which was tabled in parliament on Thursday.
If the plot was successful, ASIO believes it could have granted the foreign government significant strategic advantage over Australia.
The domestic intelligence agency says it conducted "overt activity "against the Australia-based foreign national and the network of foreign spies, which "thwarted the foreign intelligence operation and prevented the passage of classified information" to the foreign government.
ASIO director-general Mike Burgess said his organisation discovered and disrupted the plot this year." (Anthony Galloway, SMH, 10/15/2020)
—————————————————–
TO THE POINT
Johnson to address MPs as lockdown rebellion grows – Boris Johnson will tell the House of Commons there is "no alternative" to a nationwide lockdown as he faces growing fury from Conservative MPs over the suggestion that the new "stay at home" order could be extended beyond 2 December and into the new year. The Times says up to 40 backbenchers are prepared to vote against the measures on Wednesday.
Opinion poll 'giving Joe Biden anxiety' on election eve – CNN says a new opinion poll is "giving Trump backers hope and Democrats anxiety" on the eve of election day. The survey of likely voters in Iowa has Trump leading Democratic presidential nominee Joe Biden by a 48% to 41% margin. This suggests the US president is in a far stronger position than assumed, particularly it if is reflected in crucial battlegrounds such as Michigan and Wisconsin. Overall, however, Biden has had a commanding and consistent poll lead.
Farage announces launch of anti-lockdown party – Nigel Farage is to relaunch the Brexit Party as an anti-lockdown party called Reform UK. Writing for The Daily Telegraph, Farage and former Brexit Party chairman Richard Tice argue that "lockdowns don't work" and say their party will back "focused protection" from Covid-19 only for the most vulnerable, to allow the rest of the population to develop herd immunity.
Tommy Robinson arrested at anti-lockdown rally in London – The former English Defence League leader Tommy Robinson was arrested during a rally in London yesterday. Footage shared on social media shows the 37-year-old, whose real name is Stephen Yaxley-Lennon, being led away by police officers. The Guardian says the right-winger was arrested for breaking coronavirus restrictions.
Food banks report influx of middle-class families – Charities say the Covid-19 pandemic has brought a new demographic of middle-income families into food banks. Often self-employed or business owners, the so-called "newly-hungry" have mortgages and cars but have been plunged into crisis by pandemic-related job losses and gaps in the social security system. (The Week, 11/2/2020)
The looming lockdown for England will undo the economic progress made over the summer and push Britain into a double-dip recession, according to revised forecasts from leading economists. Back in April, the first full month of the first lockdown, the UK economy shrank by a record 20.4%. Now, experts are warning that the tighter restrictions announced by Boris Johnson on Saturday will "obliterate the country's fragile economic recovery," The Times reports.
Many are predicting that the final-quarter GDP will shrink by as much as 8%. And Gerard Lyons, an economic adviser to Johnson when he was London mayor, told The Guardian that the contraction could be as high as 10%. (The Week, 11/2/2020)
The Daily Star reports on a "great escape," alongside a mocked-up image of Dominic Cummings riding Steve McQueen's famous motorbike. The tabloid says that "fed-up Brits" are "forming huge queues at airports" to flee the country as lockdown looms. (The Week, 11/3/2020)
National lockdown 'a matter of time' say experts – Scientists have told the BBC it is "only a matter of time" before the UK faces a new national lockdown to tackle the second wave of Covid-19. Sir Jeremy Farrar, a member of the Scientific Advisory Group for Emergencies, says any delay will mean later restrictions will be "harder and longer." Meanwhile, a new UK campaign group, Recovery, has criticised the government's willingness to impose lockdowns, claiming that "rushed legislation" prioritises quantity of life over the quality of life. (The Week, 10/30/2020)
Multilateralism, the core ideology of the UN, is failing. Countries are bypassing the UN because they realize it cannot provide security. Countries are defending themselves. (Gatestone, 10/30/2020)
The (UK) government received some flack in July when tourists returning from Spain were abruptly required to quarantine for two weeks. Today it has been criticised for failing to act sooner. The reason is a study which says 80% of the UK's coronavirus cases can be traced back to an outbreak among Spanish farm workers in June. (The Week, 10/30/2020)
SPANISH MUTATION BLAMED FOR EUROPE'S SECOND WAVE – Europe's second wave of coronavirus was accelerated by a new viral mutation that emerged from a cluster of farms in northern Spain, according to research published today by a Swiss university. The new variant, first detected in June, "has spread rapidly through much of Europe," the Financial Times reports," and now accounts for the majority of new Covid-19 cases in several countries – and more than 80% in the UK." The study's lead author, University of Basel evolutionary geneticist Emma Hodcroft, said a "super-spreading event among agricultural workers" transmitted the 20A.EU1 mutation of the virus into the local population, where it was picked up by visitors from across the continent. (The Week, 10/30/2020)